We've found a senior residence in the city which is also close to nature and green areas.
Anni and Knud Mortensen moved to Hejredalsparken in 2016, after living in their house in Bramming for 30 years. After all these years, a desire to move to a bigger city began to emerge. "A house gives freedom, but also a lot of obligations," as Anni says, "here we just call the caretaker if there is a problem, and then he comes pretty quickly to fix it."
At one point we also considered Esbjerg, but we ended up with in Aarhus as Anni and Knud were both ready for even bigger changes. They wanted to move to a whole new city.
Aarhus wasn't entirely new to Anni and Knud, as they already had children and grandchildren in the city. They also lived in the city for a shorter period once,  as they had already been involved in church life in the church Aarhus Valgmenighed.
In the beginning especially Anni wished to live at Frederiksbjerg because she thinks it's so great there. But now I would rather live here." says Anni, "because here we actually have everything we want and if we feel like going to the city centre we'll just take the bus which doesn't take long."
Both Anni and Knud enjoy living close to nature, and Knud in particular often goes on a bike ride around Brabrand Lake, to Hasle hills, or to the green area on the other side of Hejredalsvej.
"It's nice quiet and peaceful here" says Knud "and then we have a wonderful view to somethinggreen from our living room." They both tell that they have a good relationship to the other people at the property even though they don't talk that much with them. But that's something they intend to change; "on Wednesday we have invited everyone from our stairway for a visit" they tell "we've actually thought of it for a long time but now we've decided to do something about it and then we'll see how many will show up.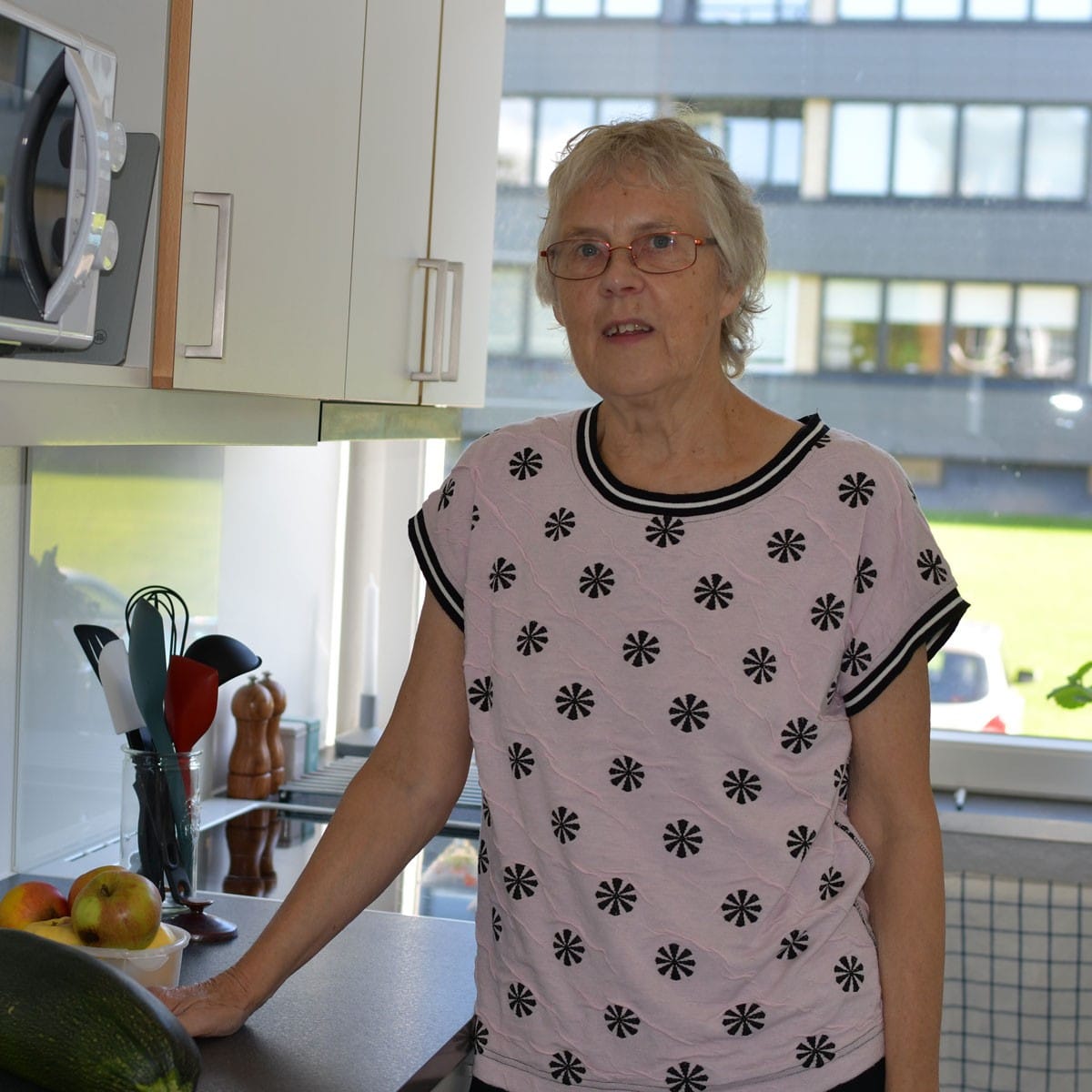 Anni Mortensen – Retired and former administrative employee in the school world, as well as self-employed
Knud Mortensen – Retired and former factory worker and social worker at an abuse center